Rss feed
Lewisville Noon Rotary Honors Lewisville Fire Fighter Joaquin "Jack" Criner
Friday, 01 April 2022
On Wednesday, March 23rd, 2022 Lewisville Local 3606 President, Joaquin "Jack" Criner, was honored by the Lewisville Noon Rotary for his exemplary service to the Lewisville community. From the Lewisville Noon Rotary website: "The Lewisville Noon Rotary last week recognized firefighter Jack Criner for his exemplary service to the local community. A dedicated member of the Lewisville Fire Department for more than 25 years, Criner spent the majority of his career riding on the truck before recen...
Lewisville Local 3606 Endorses Randy Johnson for Judge of Collin County Court at Law 5
Monday, 31 January 2022
Lewisville Local 3606 proudly announces our endorsement of Randy Johnson for Judge of Collin County Court at Law 5. Randy knows how important our first responders are to the community and how committed they are to your safety. Every day, your first responders report to work ready and willing to handle every emergency they're faced with. Randy has their back, so they can have yours. Randy continually fights for your first responders. Board Certified by the Texas Board of Legal Specializ...
Lewisville Fire Fighters Association, Local 3606 Announces Endorsement of Kronda Thimesch
Monday, 22 November 2021
For Immediate Release Contact: 11/22/2021 &n...
Fire Fighters Give Lifesaving Tips for Halloween
Sunday, 31 October 2021
For Immediate Release October 31st, 2021 Lewisville, TX -- Halloween is a highly anticipated night for children, but also one of the most dangerous. According to Safe Kids Worldwide, on average, twice as many child pedestrians are killed while walking on Halloween compared to any other day of the year, and more than 70 percent of accidents occur away from an intersection or crosswalk. "These are scary statistics, but by taking a few simple precautions, you can ensure ghosts and goblins...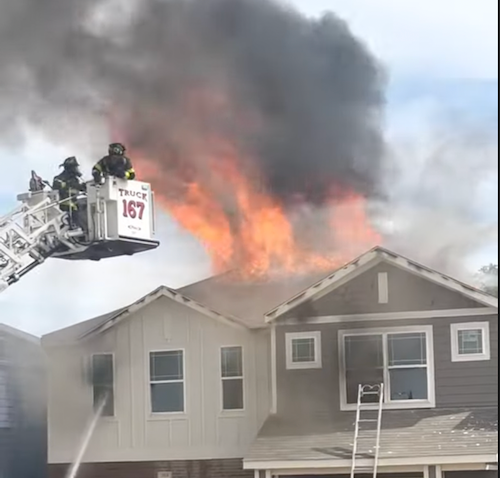 Lewisville Fire Fighters Battle Intense Two Alarm Structure Fire
Sunday, 26 September 2021
On 9/24/2021 your Lewisville Fire Fighters battled a 2 Alarm Structure Fire. On arrival crews experience a well progressed fire. Crews entered the residence to simultaneously perform aggressive fire extinguishment, search the structure to make sure everyone was out, and protect exposed residences. The attached video was provided by a retired Lewisville Fire Fighter. As you can see, there is a lot of fire and smoke coming from the roof.  The attached photos are of one of...
Captain Brandon "Woody" Woodward Retiring and Leaving A Legacy
Saturday, 31 July 2021
 Today, July 31st, 2021, Captain Brandon "Woody" Woodward is retiring from the Lewisville Fire Department. With this retirement, we lose 30 years of experience from a gentleman with a wealth of knowledge. The man known as Woody, and the name he prefers, is not only well known in the state of Texas but across the country. You see, Woody has not only dedicated his life to serving and protecting the City of Lewisville, he simultaneously has become a fixture in the Wildland Fir...
Lewisville Fire Engine Struck On The Highway
Sunday, 23 May 2021
A little after 3:00 AM this morning, May 23rd, your Lewisville Fire Fighters responded to a reported Major Accident in the 2400 blk of S I35E for a Major Accident. While operating on the scene, a passenger vehicle struck the Officer's (Passenger) side of Lewisville Fire's Engine 5. As you can see in the picture attached, the fire engine sustained damage to the front panel and bumper on that side. At the time of the accident, no fire fighters were inside of the fire engine and no fire fight...