Rss feed
Lewisville Fire Fighters Association, Local 3606 Announces Endorsement of Kronda Thimesch
Monday, 22 November 2021
For Immediate Release Contact: 11/22/2021 &n...
Fire Fighters Give Lifesaving Tips for Halloween
Sunday, 31 October 2021
For Immediate Release October 31st, 2021 Lewisville, TX -- Halloween is a highly anticipated night for children, but also one of the most dangerous. According to Safe Kids Worldwide, on average, twice as many child pedestrians are killed while walking on Halloween compared to any other day of the year, and more than 70 percent of accidents occur away from an intersection or crosswalk. "These are scary statistics, but by taking a few simple precautions, you can ensure ghosts and goblins...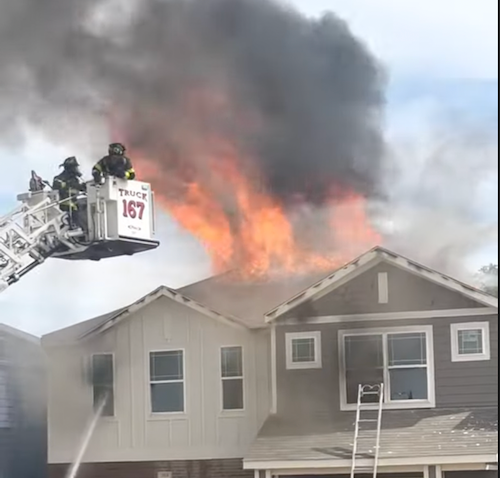 Lewisville Fire Fighters Battle Intense Two Alarm Structure Fire
Sunday, 26 September 2021
On 9/24/2021 your Lewisville Fire Fighters battled a 2 Alarm Structure Fire. On arrival crews experience a well progressed fire. Crews entered the residence to simultaneously perform aggressive fire extinguishment, search the structure to make sure everyone was out, and protect exposed residences. The attached video was provided by a retired Lewisville Fire Fighter. As you can see, there is a lot of fire and smoke coming from the roof.  The attached photos are of one of...
Captain Brandon "Woody" Woodward Retiring and Leaving A Legacy
Saturday, 31 July 2021
 Today, July 31st, 2021, Captain Brandon "Woody" Woodward is retiring from the Lewisville Fire Department. With this retirement, we lose 30 years of experience from a gentleman with a wealth of knowledge. The man known as Woody, and the name he prefers, is not only well known in the state of Texas but across the country. You see, Woody has not only dedicated his life to serving and protecting the City of Lewisville, he simultaneously has become a fixture in the Wildland Fir...
Lewisville Fire Engine Struck On The Highway
Sunday, 23 May 2021
A little after 3:00 AM this morning, May 23rd, your Lewisville Fire Fighters responded to a reported Major Accident in the 2400 blk of S I35E for a Major Accident. While operating on the scene, a passenger vehicle struck the Officer's (Passenger) side of Lewisville Fire's Engine 5. As you can see in the picture attached, the fire engine sustained damage to the front panel and bumper on that side. At the time of the accident, no fire fighters were inside of the fire engine and no fire fight...
Donation Made To Texas Cowboys Against Cancer
Thursday, 04 March 2021
Lewisville Local 3606 President Joaquin "Jack" Criner presented a check as a donation to Texas Cowboys Against Cancer. A while back, the Lewisville Fire Fighters did a Breast Cancer t-shirt fundraiser to support the fight against breast cancer. Texas Cowboys Against Cancer was chosen by breast cancer survivor, longtime Lewisville resident, Ronni Cade. We thank Texas Cowboys Against Cancer for their continued work to help all those affected by cancer. Your Lewisville Fire Fighters are...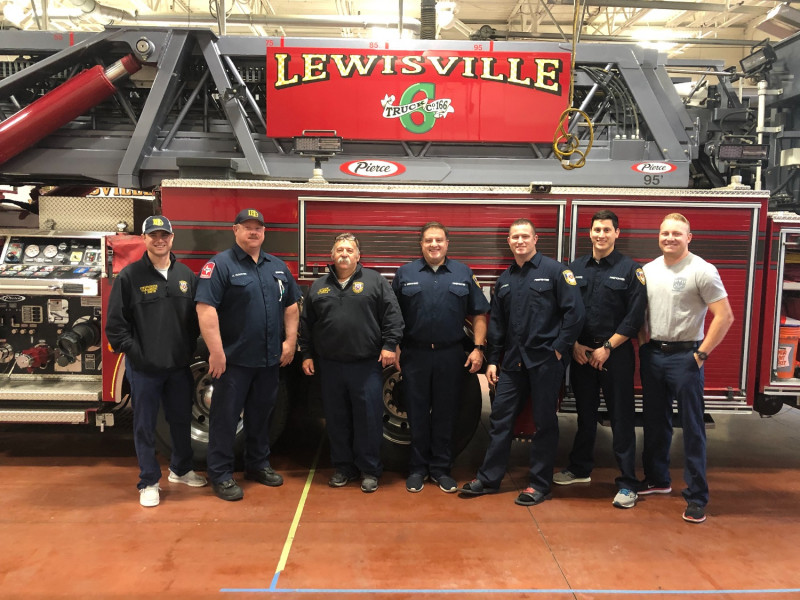 Captain Gary Apple Has Completed His Last Shift
Wednesday, 27 January 2021
As of 1900 hours today, January 27th, 2021, Captain Gary Apple has finished his last shift with the Lewisville Fire Department. Capt. Apple spent today riding Truck 6, stealing the nozzle on a vehicle fire, and participated with the Pipes and Drums during a city officials retirement reception. Capt. Apple will truly be missed and after 35 years & 9 months, it is safe to say he has influenced and mentored many Lewisville Fire Fighters during that time. His passion for the job is infecti...